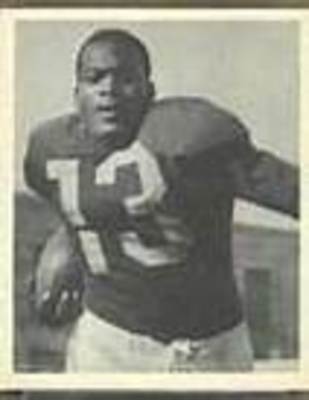 Kenneth S. Washington
was a professional
football
player who was the 1st
African-American
to sign a contract with a
National Football League
(NFL)team in the modern (post-World War II) era.
He was a star
running back
at
Abraham Lincoln High School
in Los Angeles
In college at
UCLA
, he rushed for 1,914 yards in his college career, a school record for 34 years. He was one of four African American players on the 1939 UCLA Bruins football team, the others being
Woody Strode
,
Jackie Robinson
and Ray Bartlett. They played eventual conference and national champion USC to a 0-0 tie with the
1940 Rose Bowl
on the line. It was the first
UCLA-USC rivalry
football game with national implications. UCLA teammates have commented how strong Washington was when confronted with racial slurs and discrimination.
He led the nation in total
offense
and became the 1st consensus
All-American
in the history of the school's football program in 1939. However, he was named to 2nd team
All-America
selection instead of the 1st and was omitted from the
East-West Shrine Game
that year. These slights were the source of much outrage among West Coast media outlets which blamed them on
racial discrimination
. . In 1946, when the
Cleveland Rams
moved to Los Angeles, the commissioners of the
Los Angeles Coliseum
stipulated as part of the agreement that the team be
integrated
. As a result, the team signed Washington on March 21, 1946, and fellow UCLA (and Hollywood) teammate Strode later on May 7. His NFL stint only lasted three years, but the impact he had on the league was enormous. He was inducted to the
College Football Hall of Fame
in 1956 and his number 13 jersey was the first to be retired at UCLA. After his retirement from football, Washington became a distinguished police officer for the
Los Angeles Police Department
. For his contribution to sports in Los Angeles, he was honored with a
Los Angeles Memorial Coliseum
"Court of Honor"
plaque by the Coliseum commissioners.